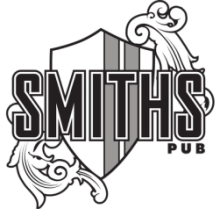 Patio. Takeout. Delivery.
Smith's is a well loved local pub that has established itself over a decade of service with great food, craft beer and well curated music, but things have changed, and keep changing due to the global pandemic.
The commitment to our friends who are thirsty or hungry hasn't changed though. We enjoy a variety of beers and our ever-changing list showcases local and outer local craft brews. Our comfort food menu has introduced instant classics including the Chicken Katsu Sandwich, alongside kick-ass burgers and more.
Even with the current BC COVID Provincial Mandate lifted, we are offering reduced capacity in our Pub and Courtyard Patio to ensure that customers, and our staff, feel safe.
Stay Safe.
Please note, due to the BC provincial mandate, we currently offer reduced seating capacity inside the Pub and on our Patio
Tuesday – Thursday | 4pm – Midnight
Friday + Saturday | Noon – Midnight
Sunday | Noon – 6pm
250.360.2544
777 Courtney Street
Victoria, BC V8W 3C6
Our Courtyard Patio entrance is located around the corner on Blanshard St.
Ring 250.360.2544 or order online at
Tuesday – Thursday | 4pm – Midnight
Friday + Saturday | Noon – Midnight
Monday | Closed